Lasagna Bolognese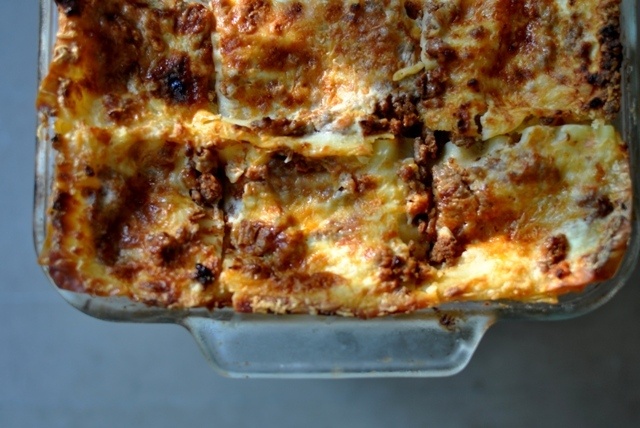 I have less than eight weeks remaining until the newest member of our family arrives. In the interest of full disclosure — since this is a food blog after all — I've had more food aversions than cravings this pregnancy. I've basically experienced seven months of general disinterest in food. A few weeks ago I even encouraged Jason to eat the bacon out of my salad. I willingly gave away bacon! I don't get it either.
Here I am in our backyard at approximately 28 weeks — picture taken by my son, Walker. Bang trim, approximately 6 weeks overdue.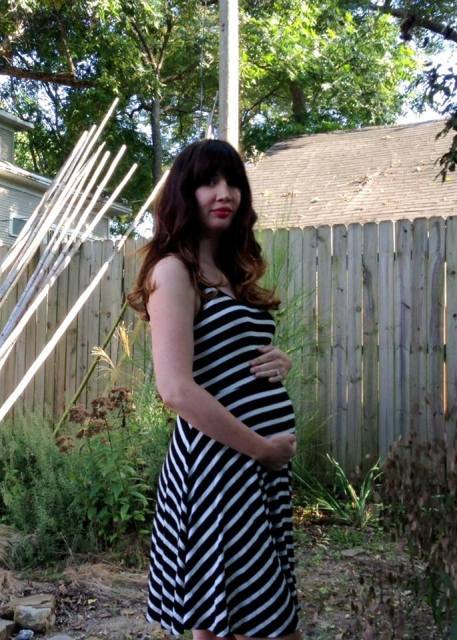 I have experienced a few cravings, although they certainly haven't fallen into the kale or quinoa category: chocolate croissants from my favorite local bakery, donuts from wherever/whenever — just bring the pregnant lady some donuts, raw oysters (I have not partaken but am planning oysters and champagne as my first dinner on the town after baby arrives), bread and olive oil, and… the star of this post: lasagna Bolognese.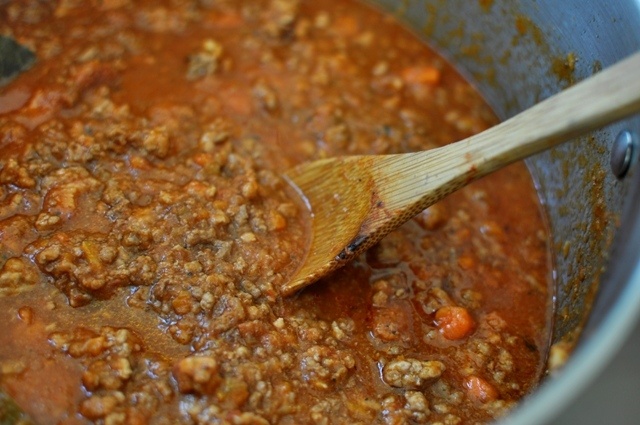 I made lasagna Bolognese for the first time earlier this year using Smitten Kitchen's much-acclaimed recipe, which author Deb Perelman called her "culinary Mount Everest." It involved a considerable amount of work and was delicious.  For whatever reason, though, I forgot about it until Bon Appétit published a fairly similar recipe in a recent issue. My interest in making the dish returned with vigor, and better yet, it was something I was actually excited to eat.
Lasagna Bolognese is lasagna supreme in my book.  Think: a deeply flavorful meat-and-tomato-based sauce, creamy béchemal and freshly shredded parmesan, mingling together and bubbling between layers of pasta. The top browns beautifully, and I agree with Deb, the prized corner pieces with their perfectly cooked edges are worth fighting for. Not that I know anything about that.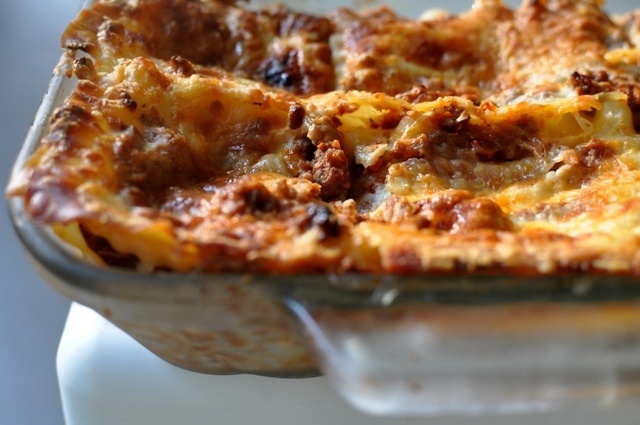 Making this lasagna is no small undertaking. If you're like me when it comes to time-intensive recipes, you don't want to choose just any recipe with the hope your day's labor will pay off. You want one that works. Both Smitten Kitchen and Bon Appétit's recipes work (they more than work; they're both winners),  but I think each has its advantages. Here are my thoughts on the two popular versions:
* Dear me, Bon Appétit's Bolognese sauce is insanely flavorful with ground pork, ground beef and pancetta. I have to pull myself (and Jason) away from the pot when it's cooking. Although you should have eight cups when done, I always end up with seven because of taste-testing during the cooking process (or quality control, as I prefer to call it).
*  Bon Appétit's recipe calls for milk, a traditional ingredient in lasagna Bolognese.
* Bon Appétit also offers a bounty of helpful tips, such as letting the lasagna rest for 40 minutes after cooking. The resting helps everything settle into place, and I've found even 20 minutes does the job. (Smitten Kitchen advises 10 minutes of resting time, which I would say is the minimum.) The first time I made the lasagna, I served it immediately out of the oven; it was difficult to cut and fell apart on everyone's plates.
* The béchamel sauce: you can't go wrong with either version.
* Smitten Kitchen's recipe calls for red wine, while Bon Appétit calls for white. Red wine gets my nod.
* Smitten Kitchen's recipe calls for garlic. Yes to garlic; always, garlic.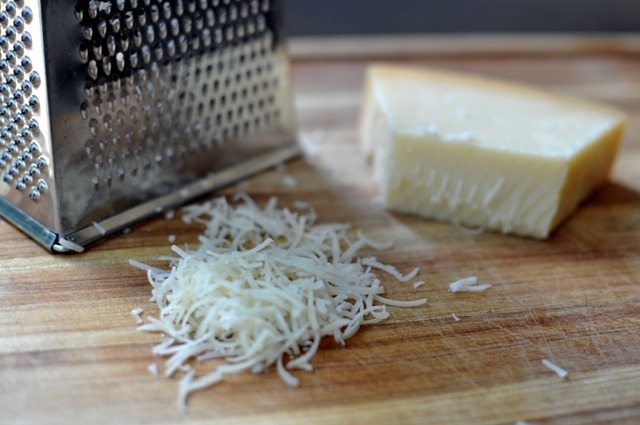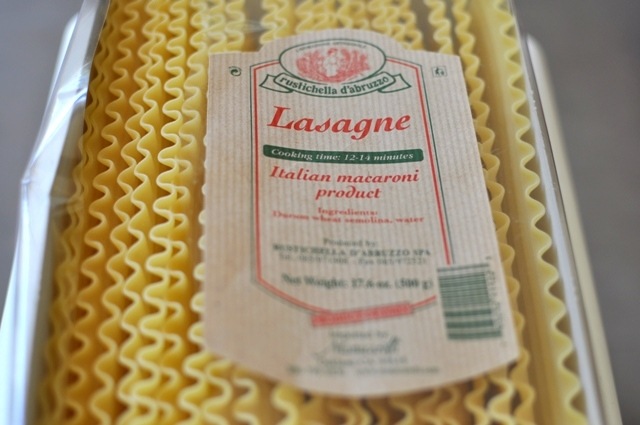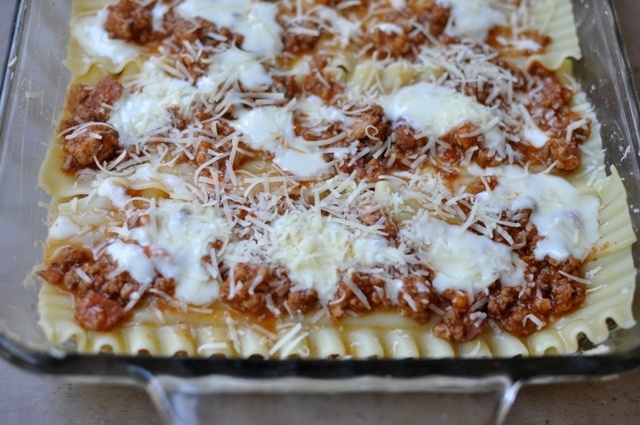 The recipe below is a combination of what I consider the best of the two with a much heavier emphasis on Bon Appétit 's instructions and ingredients.
I hope you'll give me a pass for not including homemade noodles in this adaption, although feel free to follow the links provided if you want to go that route. I've made homemade lasagna noodles before and assure you they're a worthy cause, but with the availability of quality pasta in stores, I think you can still achieve greatness here, not to mention make a lot of hungry people happy.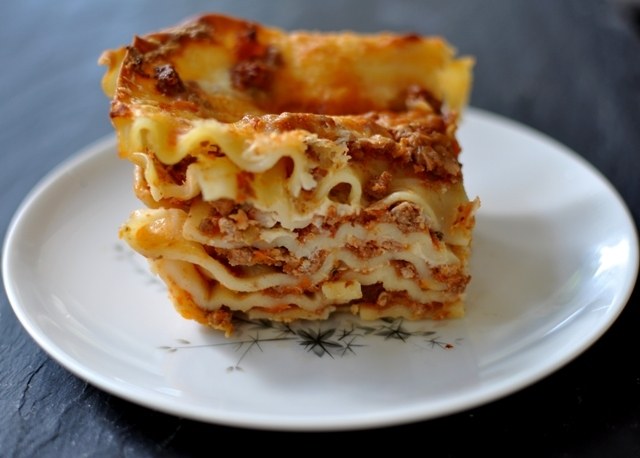 [cft format=0]
Leave a Comment