Champagne With Raspberry-Black Pepper Syrup and Ginger
Summer 2011 is turning out to be The Summer of The Cocktail. I have had cocktails of all flavors, strengths and sizes on the brain since the temperature started rising, a hankering that is likely due to the fact that I was in this state for most of last year. A few months ago we hosted a neighborhood cocktail party to kick off spring. I plan to post a few recipes from that get-together, including the libation of the evening: pear sidecars with candied orange peel.
Our sidecar kick was followed by an obsession with these, but after dining at Husk last week in Charleston, I've been craving something bubbly. Husk's cocktail list was mighty inspiring and I pined for several drinks before choosing "Champagne and Raspberries," which the menu described as "Champagne, Domaine de Canton-soaked raspberries, lemongrass and lavender simple syrup with black pepper."  I normally enjoy a glass of wine with my entrée. Not at Husk. Proper pairing be damned, I ordered a second glass of champagne, which I cheerfully sipped while dining on grouper.
After much reminiscing about that memorable cocktail, I decided to create something similar for the summer evenings we spend visiting with friends on our front porch. This bubbly drink, with its bright fruit and peppery accents, brings me back to that special evening in Charleston.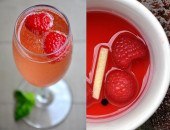 Champagne With Raspberry-Black Pepper Syrup And Ginger
Ingredients:
Champagne
1/2 cup sugar
1/2 cup water
1 cup raspberries + extra for garnish
2 one-inch slivers of fresh ginger
5 whole black peppercorns 
1/4 teaspoon cracked black peppercorns
* Optional garnish: 1 cup raspberries and 1/4 cup Domaine de Canton
Directions:
Combine the water, sugar, ginger, 1 cup of raspberries and peppercorns in a small sauce pan and bring to a boil. Reduce heat to medium and simmer for 5 minutes. Remove from heat and cool to room temperature. Strain syrup through a fine mesh strainer into a bowl, pushing on the solids. Transfer to the refrigerator until ready to use.
To make the cocktail, pour 2 teaspoons of raspberry syrup into a champagne flute. Slowly add the champagne. Garnish with raspberries.
The leftover syrup can be stored in the refrigerator for up to three weeks. Try it drizzled over a slice of cake or stirred into a glass of lemonade or iced tea.
* Optional Garnish / Drunken Raspberries:Combine 1 cup raspberries with 1/4 cup Domaine de Canton in a bowl and soak for at least 30 minutes or up to 3 hours at room temperature. Mine were plenty boozy around the one-hour mark. If you soak them longer than three hours, your berries will need a cab ride home. Transfer the raspberries to the refrigerator until ready to use. These can be made 1 day ahead.
Leave a Comment
You must be logged in to post a comment.