Pesto Vegetable Soup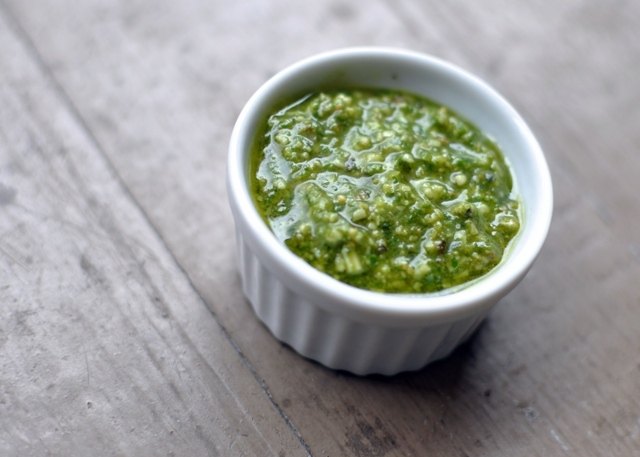 Two months ago my friend Angela brought over the best vegetable soup I'd ever tasted. It lasted but a day or two, and I found myself scraping the bottom of the pot for the final spoonful.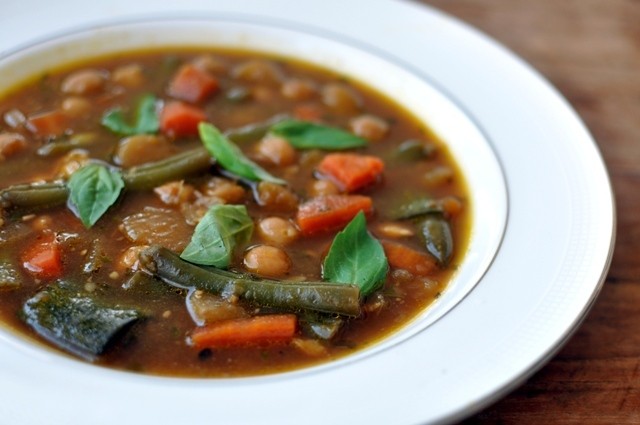 I knew Angela had adapted the recipe from a cookbook we both own — "Around My French Table" by Dorie Greenspan — so I immediately set out to make another batch. I was concerned, however, that my soup wouldn't taste as good Angela's, figuring she used her husband Tim's homemade stock. It's challenging to replicate your own homemade stock let alone someone else's, and I knew Tim's was likely better than most. He's a craftsman in the kitchen, paying close attention to detail and not one to rush the process. Exhibit A: this beautiful bread he made to go along with the soup: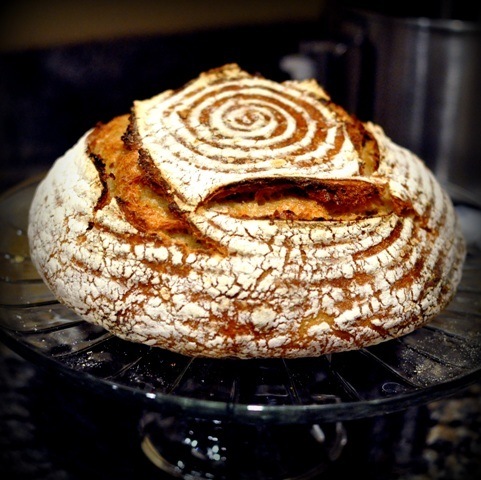 They didn't use homemade stock I was relieved to learn. It was the homemade pesto stirred in at the end that was (in large part) responsible for giving the soup such incredible flavor. (After making this discovery, I started craving pesto regularly and smothered it on everything from eggs to salami.)
The soup is adaptable to many seasons and appetites. Angela added sausage to make it heartier. I do occasionally, as well. Whatever changes you make, don't skip the pesto! It transforms the soup into something memorable.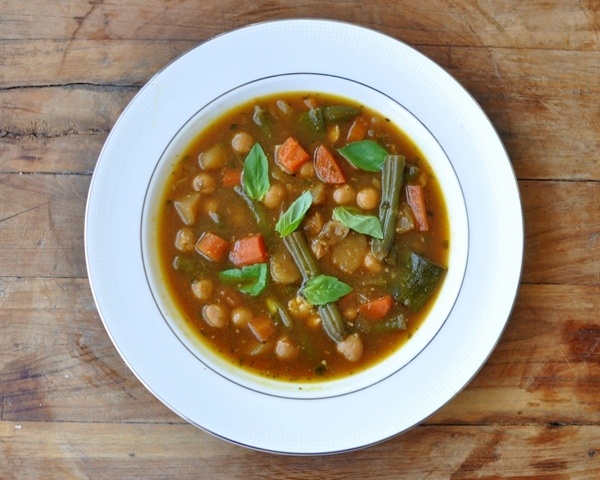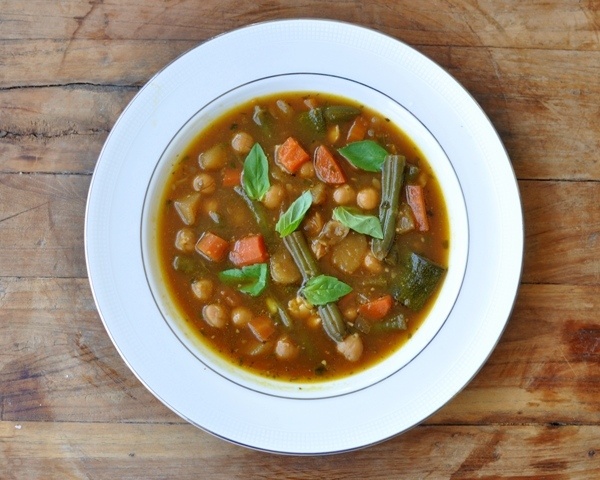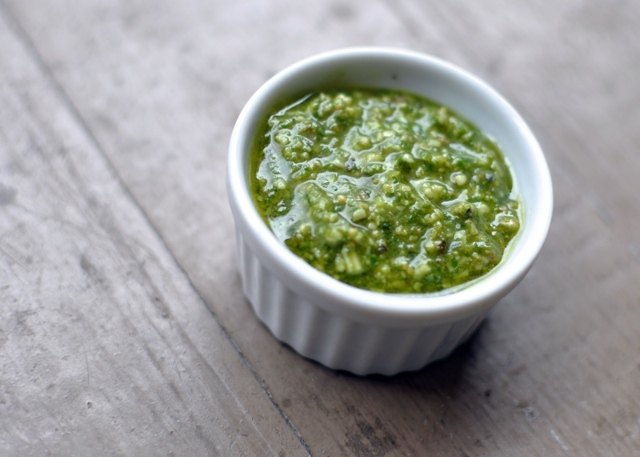 Pesto Vegetable Soup
I've made this soup several ways -- with homemade chicken stock as well as store-bought chicken and vegetable stock (KitchenBasics is my favorite brand) – and have achieved great results with all, although homemade stock always provides the clearest, richest taste.
Ingredients:
For the Basil Pesto (Makes approximately 1 cup)
2 cups lightly packed fresh basil leaves
2 small garlic cloves, split in half, germ removed and crushed
1/3 cup toasted pine nuts*
½ cup extra-virgin olive oil
¾ cup freshly grated Parmesan
Salt and freshly ground pepper
* Roast raw pine nuts on a baking pan in a 350-degree-F oven for approximately 8 minutes.
For the Soup
2 tablespoons extra-virgin olive oil
1 large onion, finely chopped
4 garlic cloves, split in half, germ removed, and finely chopped
Salt
6 cups vegetable broth or chicken broth
3 parsley sprigs
2 thyme sprigs
1 rosemary sprig
1 dried bay leaf
3 medium carrots, peeled, halved and cut into ¼-inch pieces
1 small potato, peeled and cut into ½-inch cubes
¼ lb green beans, trimmed and cut into 1-inch lengths
1 cup cooked chickpeas
1 medium zucchini, trimmed, halved lengthwise and cut into ½-inch pieces
½ cup basil pesto
Freshly ground pepper

For garnish
Pesto
Freshly grated parmesan
Freshly torn basil leaves
Directions:
Make the basil pesto: Add the basil, garlic and pine nuts to a food processor with a drizzle of olive oil and pinch of salt. Process for a few seconds. Add the parmesan and rest of the oil. Pulse until well combined. Add salt and pepper to taste.
Make the soup: In a large stockpot, heat the olive oil on medium heat. Add the onion, garlic and 1 teaspoon of salt. Lower the heat and cook, stirring occasionally, until vegetables are soft, approximately 10 minutes. Add the broth and herbs and bring to a boil. Reduce heat and simmer for 5 minutes. Add the carrots and potato and cook for 10 minutes. Add the beans and zucchini and cook for an additional 10 minutes. Add the chickpeas. Stir in the pesto.  Season to taste with salt and pepper. Garnish individual soups with Parmesan, basil leaves and additional pesto (if desired).