Roast Chicken Legs and Thighs
If there's a meal my kids will reminisce about someday when Jason and I are racing wheelchairs in the nursing home, it will be this roast chicken. With its crackly skin and tender, juicy meat, it has appeared on the dinner table many times, too many to count, to the rave reviews of six year olds and out-of-town guests alike. This chicken is, hands-down, the easiest, most inexpensive meal in my dinner arsenal.
For those of you who strive to eat hormone-free, antibiotic-free meat but cringe at the cost, you should seek out chicken legs, thighs or drumsticks, which are significantly lighter on the wallet than their much sought-after counterpart, the chicken breast, and are arguably more delicious. 
The only prep time required here is drying off the chicken. You want the skin as dry as possible. Rain salt over it. Stick it in the oven. That is all. The cooking technique is borrowed from Thomas Keller's Favorite Simple Roast Chicken, my go-to recipe for cooking a whole chicken.    
If you absolutely must, you can gussy up this dish. Tuck a few plump garlic cloves under the skin – they'll roast and caramelize as the chicken cooks, and afterward, with the gentle touch of a fork, collapse and melt into the meat.
You could also position a pat of butter and some freshly chopped herbs between the meat and the skin. Use your imagination but don't create too much work for yourself, as the beauty of this dish lies in its simplicity.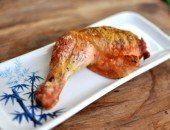 ROAST CHICKEN LEGS AND THIGHS
This recipe requires skin-on chicken. It's a must.
Ingredients:
Skin-on, bone-in chicken legs or thighs or combination of both
Salt and Pepper
Directions:
Preheat oven to 450 degrees F. With paper towels, dry off the chicken pieces on all sides. Place chicken in a large baking dish, making sure they have a little bit of space in between them. Season the chicken with salt and pepper — don't be stingy on the salt, as you want the chicken skin to be evenly seasoned. Bake for 45 - 55 minutes until skin is crispy and golden. Ladle the juices over the chicken. Serve with dijon mustard on the side, if desired.
Optional: Prior to baking, place a few garlic cloves (outer skins removed) under the skin of the chicken. Alternatively, place a 1/2 tablespoon of butter and some freshly chopped herbs under the skin. Make sure the chicken skin is repositioned snugly over the garlic cloves or butter and herbs.