Green Bean Casserole
Forgive the hiatus. I've been busy with October birthdays, a November wedding anniversary, one long-distance trip with small children, and some increased responsibilities on the work front. Zero complaining here, though. I've certainly been partaking in some holiday fun, including attending an intimate Christmas party that featured a four-course meal with delectable wine pairings and performances by belly dancers, an accordion player and a stand-up comedian. Yes, all of this awesomeness happened at ONE party for 20 attendees. I jest not.

Photo by Liesa Cole, party host extraordinaire

Despite my blog absence and aforementioned holiday merriment, I've been buzzing around the kitchen most nights of the week and am excited to share this version of a holiday standard. It is, as Alton Brown calls it, "Not Your Mama's Green Bean Casserole." My husband thinks I should give it a new name, but I'm not clever enough at the moment to come up with something fitting, so you'll have to trust me that it's a far cry from the green bean casseroles found on most tables this time of year. Nary a can of cream of anything is used in the recipe and it is wicked good.
This casserole wrecked us on Thanksgiving, and not in a post-turkey delirium kind of way. The green beans were bright and flavorful and the sauce was creamy and rich with an impressive depth of flavor from the sautéed mushrooms and garlic. Homemade crispy fried onions were stirred into the sauce as well as piled generously on top.

You better believe I'm making this casserole for Christmas dinner, and I implore you, if you love your family and friends, to consider making it for them also. However, be prepared that your casserole may dominate all side dish competition and possibly even trump the Roast Beast.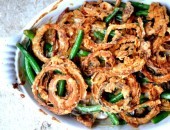 GREEN BEAN CASSEROLE
I varied Alton Brown's recipe in the following ways. I fried my onions instead of baking them and breaded them simply with flour instead of panko crumbs. I increased the amount of sauce in the dish, as I found the original measurements made just enough to cover the beans and the sauce is too good not to have a little extra hanging around. I also used cream in addition to half-and-half because cream makes everything better, doesn't it?
Ingredients:
For the Topping:
2 medium onions, thinly sliced (a mandolin works best)
2 large eggs
1/2 cup all-purpose flour
1 teaspoon salt
Canola Oil or Vegetable Oil
For the Beans:
1 pound fresh green beans, rinsed and trimmed
For the Sauce:
3-4 tablespoons of unsalted butter
12 ounces mushrooms, trimmed and sliced
2 garlic cloves, minced
Generous pinch of ground nutmeg
3 tablespoons all-purpose flour
1 ½ cup chicken or vegetable stock
¾ cup cream
¾ cup half-and-half
Salt and Pepper
Directions:
Add enough oil to a large, deep skillet until it reaches 1 ½ inches up the sides. Turn heat to medium-high.
Meanwhile, lightly whisk the eggs in a bowl; set aside. Whisk flour and salt in a second bowl; set aside. Dip onions in the eggs and then in the flour mixture. Transfer to another bowl until oil is hot. Add onions to oil and fry until golden brown; transfer to a paper towel-lined plate. I fried my onions in two batches.
Preheat the oven to 350 degrees F.
Bring a large pot of water to boil and add green beans. Cook for 5 minutes, drain and immediately place in a large bowl of ice water to stop the beans from further cooking. (In lieu of an ice water bath, I sometimes run cold water over the beans until they are cool to touch.) Drain and set aside.
Melt two tablespoons of butter in a large pan over medium-high heat. Add half of the mushrooms (or less), making sure that there is only one layer of mushrooms so they can evenly brown — don't crowd them (see my instructional on pan-frying mushrooms here). Remove first batch of browned mushrooms and set aside. Cook the second batch of mushrooms until browned on both sides, adding more butter as needed if the pan is dry. Add ½ tablespoon of butter to the pan followed by the nutmeg and the garlic, making sure the garlic cooks in the melted butter. Return the first batch of mushrooms to the pan and sprinkle the flour over the mushrooms, stirring to combine. Cook for 1 minute. Add the stock and simmer for 1 minute. Add the cream and half-and-half and cook until the sauce thickens, approximately 6 to 8 minutes. Add salt and pepper to taste.
Remove from heat and stir in ¼ of the fried onions and all of the green beans. Transfer mixture to a casserole dish and bake until bubbly, approximately 15 minutes. Add the remaining onions to the top of the casserole and cook for an additional 5 minutes. Serve immediately.
You must be logged in to post a comment.