Prosciutto Ring
Last year, I prepared a magnificent feast of poached lobster and pommes maxim for our wedding anniversary. This year, I baked a prosciutto ring for old times' sake (more on that in a minute), which I planned to serve for dinner, but due to our woefully barren fridge and pantry, I ended up eating two-thirds of the bread by mid-afternoon. Happy anniversary!
This prosciutto ring is one of the first breads I learned to make in my twenties.In our early married years, homemade bread along with a nice cheap bottle of wine was a welcome dinner. Hell, it's still a welcome dinner. Or lunch. Or anytime, anywhere. Bring it.
I've since tried my hand at making other breads — brioche, croissants, French baguette, focaccia — but the prosciutto ring remains a favorite. It's a hearty, rustic bread and beneath its shiny, bacon-glazed crust is a chewy crumb with coarsely cracked pepper and hand-torn pieces of prosciutto scattered throughout.
The recipe comes from Rose Levy Beranbaum, author of The Bread Bible, and she recommends that you tear it, piece by piece, with your hands to preserve its texture. It's the kind of bread that begs to be shared with someone you love — that is, if you have any left by the time they get home.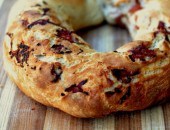 PROSCIUTTO RING
This is my go-to bread for last-minute party invites and get-togethers because it comes out of the oven two hours after you've started making it. Most breads require more rising time. I've also made individual rolls using this dough.
Ingredients:
2 cups plus 3 tablespoons unbleached all-purpose flour
1 tablespoon honey or sugar
3/4 teaspoon instant yeast
1/2 teaspoon coarsely cracked black pepper
3/4 teaspoon salt
1 cup water, room temperature
4 ounces prosciutto, torn into bite-sized pieces
4 teaspoons rendered bacon fat or melted butter
1/2 cup ice
Directions:
In the bowl of a stand mixer, whisk the flour, yeast, pepper and honey (or sugar) together. Whisk in the salt. Replace the whisk attachment with the hook attachment, and with the mixer on low speed, slowly pour in the water. Knead until the flour mixture is moistened, about one minute. Increase speed to medium ("4" on a kitchenaid mixer) and knead for 7 minutes. With your hands, knead in the prosciutto. Cover with plastic wrap and let rest for 20 minutes.
Transfer dough to a floured surface and roll into a rope (Beranbaum says 18 inches long, but mine are usually shorter) and shape into a circle. You want an approximate 3-inch hole in the middle. Press the ends of the dough together lightly to seal and transfer the ring to a large square of parchment paper, a Silpain liner or (in a pinch) a square of aluminum foil. Let rise for an hour.  You can go ahead and preheat your oven to 450 degrees F at this point. Place a baking stone on the middle rack and a baking pan or cast iron skillet on the lowest rack. (You can also do this at the 30-minute mark of rising time if you don't want to heat up your kitchen just yet.)
Before baking, brush the dough with the melted bacon fat or butter. Transfer the dough (while still on the parchment paper, liner or foil) to the baking stone. Pour the ice into the baking pan or cast-iron skillet, and quickly close the oven door. Bake for 15 minutes.
Turn the oven heat down to 400 degrees F and remove the paper/liner/foil from under the bread, slipping the bread directly onto the baking stone. (You can remove the baking pan or cast-iron skillet at this point.) Continue baking the bread for approximately 15 minutes until it's golden brown on top. Keep close watch the last 10 minutes of baking to make sure the bread isn't turning too dark (bordering on burned) — if so, cover in aluminum foil.
Remove bread from oven and brush again with bacon fat or butter. Let cool. To serve, Beranbaum says, "The texture of the bread is most appealing when torn rather than cut."
Leave a Comment
You must be logged in to post a comment.